About
Australians of all ages have never been so inactive[1]. Three in five Australians are overweight or obese[2], and only one in five Australian children get the recommended one hour of physical activity every day.[3]
Australia has some of the most beautiful and accessible outdoor spaces in the world, yet for every hour we spend on outdoor recreation, we spend over seven hours in front of screens watching television or accessing the Internet[4].
Active in Parks supports you, your family, and your workplace to get active and connect with your local communities and outdoor spaces.
The Active in Parks program can help to:
–        connect you to thousands of outdoor activities across Australia through our What's on Outdoors database
–        give you ideas to get your family, school or workplace outside and active
–        support community groups and organisations to run Active in Parks programs with step by step implementation guides
Active in Parks is the flagship program of the People and Parks Foundation. Piloted in 2011, with the support of Barwon Medicare Local and Parks Victoria, the program's initial goal was to get Barwon residents healthy, active and outdoors.
Following the success of the pilot, and with the support of Medibank Community Fund, Active in Parks has expanded to work across the country and now reaches over 100,000 people Australia wide.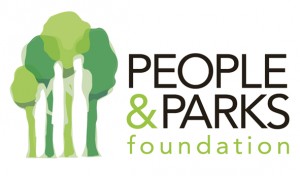 The People and Parks Foundation, a not for profit organisation, was created to promote the concept that a healthy environment, healthy community and a healthy lifestyle are inextricably linked. The Foundation was formed in 2004, recognising the limited resources in state government to develop and deliver parks programs. The Foundation has evolved to foster collaborative and innovative approaches to connecting people to parks.
In the future, People and Parks foundation is looking forward to building on its strong relationship with parks agencies and health organisations to encourage more people to harness the social, mental and physical benefits that contact with nature provides.
---
[1] Australian Institute of Health and Welfare 2013
[2] Australian Institute of Health and Welfare 2013
[3] Beyond the bubble wrap: Understanding parents' fears in allowing their children to play and travel independently. Vic Health 2014
[4] Missing Trees: The Inside Story of an Outdoor Nation. Planet Ark, 2013